Even though the title of my post is asking the rain to go away I am actually enjoying it. The heavens opened up this morning in my corner of the world and I thought to myself 'Brilliant, an excuse to retreat to the sofa, tea and a slice of eggy bread with a dollop of tomato sauce in hand armed with my duvet and the Sunday papers, bliss.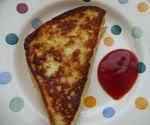 I only use the term 'French Toast' if I am making the sweet version otherwise I think 'Eggy Bread' is most definitely the way to go.
Serves one
1 or 2 slices of thick white bread
1 or 2 eggs whisked
butter and oil for frying
Firstly heat a heavy based frying pan with butter and a tiny drop of oil to stop the butter burning. while the pan is heating up whisk your eggs in a bowl and soak your slices of bread on both side one by one until they are completely covered with no dry bits left. Place your bread in the pan and fry until golden brown on both sides and if there is any egg left in the bowl while you are frying then spoon a bit more on the bread in the pan to make it extra eggy! You can serve alongside your normal full English or just with some crispy bacon and mushrooms, perfect.