It's the time of year again when you need to eat pie. I love pie more than I could merely express in words on this blog, any kind of pie and I am happy whether it be sweet or savoury.
I had a whole chicken than I bought from the butcher and decided to roast it to make several meals over the next few days, the first being a delicious and comforting pie. Chicken, bacon and leek pie is so easy to make and takes no time at all.
When the chicken was roasted and rested I stripped enough of the meat off for my pie and started on making the filling by sauteing a whole leek I had cut into thin strips in butter with 4 slices of smoked streaky bacon. I then added the cooked chicken, some fresh chicken stock made from last weeks roast, white wine, some double cream and seasoning, that's it.
It was horrible weather yesterday so I didn't want to walk to the shop to buy pastry so I made some using a basic recipe of flour, butter and water, I have to admit the pastry was not great but it all tasted amazing and that's the main thing! Sorry the pictures are not the greatest but I was in a rush as the camera was running out of battery fast. I have just had to add in that three of my photo's of the fillings and other exciting things have been deleted by mistake so now you just have pictures of pastry, I am sorry but the show must go on so here is my pastry.
I couldn't find my rolling pin so had to use a role of tin foil, it worked quite well though!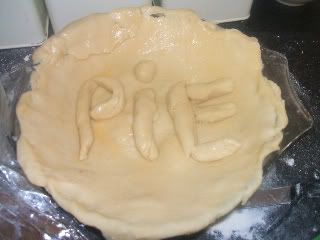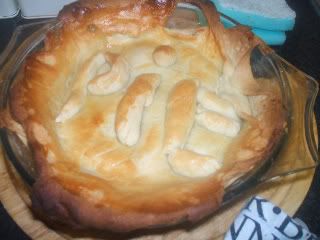 My pie was a little burnt around the edges and sunk slightly in the middle but it was delicious served with buttery mash and savoy cabbage and I don't care what you lot think anyway so there ( I do really).
For lunch the next day I made the leftovers into a pie version of bubble squeak with some extra cabbage and bacon, I highly recommend you do the same.