I had Quesadilla's at a friends house the other day for the first time and couldn't believe how tasty they were so decided to make some at home this evening with Mercer and it was one of the easiest and tastiest evening meals ever!
We popped to the shops and bought tortilla's, salsa (I do make it normally but it had been a long day!), cheese, green jalapenos red onion, kidney beans to make re-fried beans and a pack of organic stir-fry lamb to have on the side.
I just spread a layer of salsa, re-fried beans, cheese, cooked lamb strips, onion and jalapenos, folded it in half and then dry fried it in a heavy based frying pan for about 5 minutes on each side and served it with sour cream and it was perfect.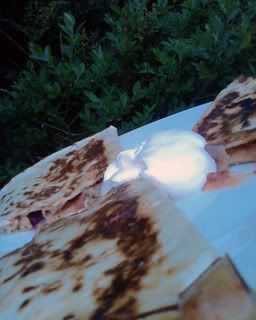 And at last tomorrow I am meeting my Mum and Brother and will get that lovely camera to take some photo's of my food that will actually do it justice!