Tonight me and Mercer at last ate the two steaks that we have been meaning to eat for the last 4 days, various things kept cropping and getting in the way and yet another night would pass with them just sitting unloved in the fridge, but not tonight dear reader oh no! I just pan fried them both to medium rare and served them with sauteed potato's, salad and my version of burger sauce which is just mayonnaise, BBQ sauce and English mustard mixed together, simple!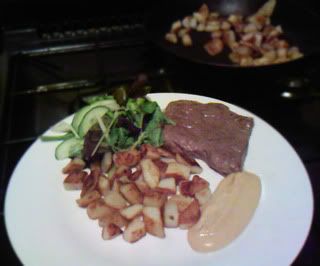 And can I just apologise for the photo quality, it's just that I don't currently own a digital camera and am relying on my old camera phone and Mercer's Photoshop skills.
My Brother is going to lend me his high quality, expensive and hardly ever used digital camera for an extended period of time so at some point very soon you will all have some high quality pictures of my yummy food to look at I hope!