I adore trifle, laden with all that cream, custard and lovely fruit, it reminds me of long hot summer days, pimms with mint, cucumber and strawberries and running through sprinklers! It also reminds me of Christmas when my Mum makes one with Damson's or plums with crystallized violets on top which is delicious(My Mum said I mention her a bit often in my blog but I have just done it again so take that Mother!)
This is a very very simple version without jelly or sherry and I have cheated by using good quality shop bought Maderia cake and vanilla custard and the result was absolutely fabulous darling!!
One packet of maderia cake
Large pot of whipping cream
pot of vanilla custard
punnet of raspberries
punnet of strawberries
Good quality strawberry jam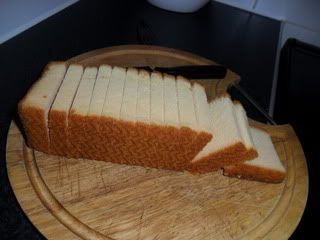 My naughty shop bought Maderia cake cut into slices.
I covered the slices of maderia cake in 'Bon Mamma' strawberry jam.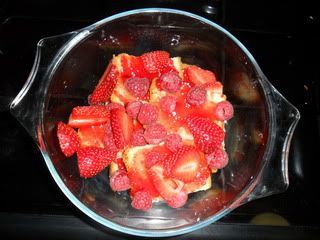 I then covered the cake in strawberries and raspberries.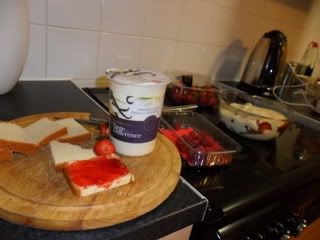 Look! The custard I used instead of making my own, I'll tell you what though Sainsburys 'taste the difference' Madagascan vanilla custard is truly delicious and has lot's of real bits of black vanilla in it which can't be a bad thing.
Instead of the usual one layer of cake and fruit, I went for two with a layer of custard in between.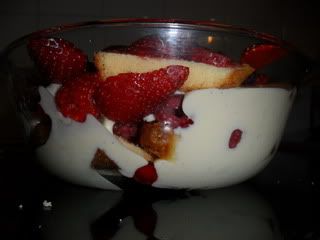 I can assure you that is custard and not cream, if you look very closely you can see the vanilla..ooohhhhhh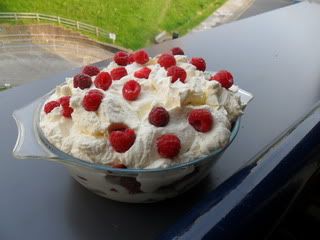 Sorry about the less than great view from my balcony but I think my trifle needed some natural light to show it in all it's trifle glory!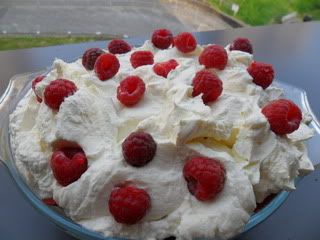 The best thing of all about my trifle is that my stupid boyfriend doesn't like trifle so ha bloody ha to him because I'm going to eat it all and if I put on any weight then it's his fault for not liking the trifle.