Sorry I have not posted anything for awhile but it's been rather a hard month and I lost a very dear friend so have not felt up to much, but now I do so onto happier things!
My Mum and her husband have recently moved to Portugal for 6 months and so I was lucky enough to go and stay with them for a week in a tiny village called 'Villa du Bispo' in the Algarve. My Mum is just as much into food as I am so I knew there would be lot's of food adventures to be had and my first morning there I was taken to a market in a place called 'Lagos' and it was fantastic, the amazing choice of gorgeous fresh produce was so varied. There were lot's of locals with fruit and veg they had grown in there gardens and live chickens and rabbits for sale that were clearly bound for the pot!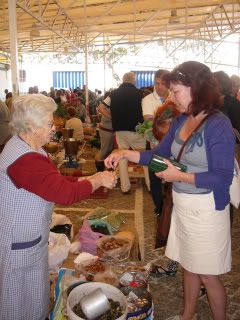 We bought some fresh sardines and I gutted them with Mum and we just covered them with lemon juice, sea salt and the BBQ'd them. We just served them with them salad and bread we had bought at the market. Very delicious!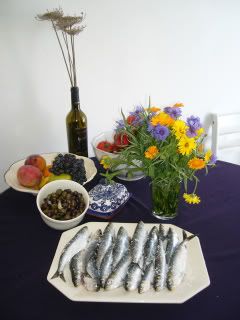 I adore Portugal and have been twice before to Lisbon which is one of my favourite city's I have ever been to. I was lucky enough to go to the best bakery in Portugal that is known for making the best Portuguese custard tarts in the world and it's called 'Pasteis de Belem' and my God they really were the best, crunchy flaky, chewy pastry filled with sweet, rich, thick and creamy custard filling with a glorious slightly burnt top, oh how I love Custard Tarts!
My Mum has a great Portuguese cookbook called 'Piri Piri Starfish, Portugal Found' with the most beautiful photo's in it. We took turns in cooking recipes from it including pork ribs with orange, pork and clams served with sauteed potatoes and I made seafood rice using crab claws, mussels, prawns, squid and clams. Unfortunately there are no photo's for thses dishes but I can assure you they were all very delicious.