After the very carb filled start to my week I felt like something a bit healthier and found some organic duck legs on special offer so decided to make a stir fry with them.
I nevcr buy stir fry sauces and have always done pretty much the same thing every time I make my sauce by just adding sesame oil, dark soy sauce, fish sauce and sweet chili sauce and it's never failed me yet.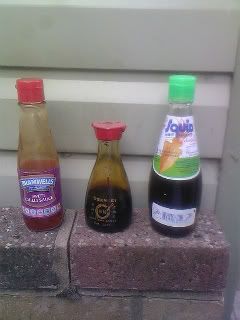 To make my stir fry I pan fried the duck legs before roasting them in the oven and when they were done I let them rest before chopping into bite size chunks and accidentally eating all the crispy skin.....
I have never made prawns toast's before and I really love them but it can be very much hit and miss when you order them from the takeaway so I thought I would have a go at making them myself. I just minced prawns with pork mince, ginger, sesame oil and a pinch of salt and sugar before frying them in sesame oil. Here is a picture of them before they got fried.
To make my stir fry I just used up what ever veg I had in the fridge so we ended up with carrots, beansprouts, sweetcorn, red and yellow pepper, spring greens, red onion and of course the crispy duck all doused in soy sauce, fish sauce and chili sauce. I did get a couple of spring rolls for Mercer as he hates seafood but I didn't make them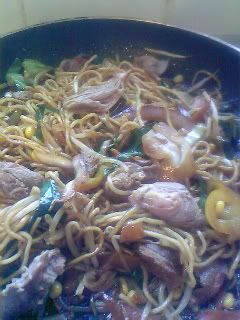 Sorry the photo's are not that great but it's hard with a rubbish camera phone, oh well it's my Birthday soon and I think I have dropped enough hints to Mercer.....