Oh how I love sausages, they are delicious and come in so many varieties and flavours whether it be a good old British banger cooked on a BBQ and served in a soft white bap with tomato sauce and mustard or perhaps some pork and ale sausages with creamy mash and rich onion gravy on a wintry evening with a glass of red wine, perfect.
I decided to go on an outing to 'The Brighton Sausage Company' with the intention of buying some delicious organic, home-made bangers and oh how delicious they are! I adore TBSC, they make many different varieties of sausage including wild boar and I am known to pop in there if I am peckish when in town as there sausage rolls are the best I have ever had!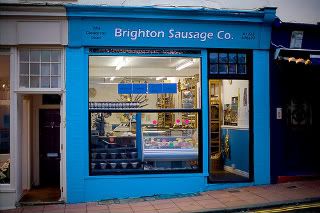 But instead of coming home with sausages I am came home with Saucisson and a few extra goodies from the surrounding shops that ended up in me making hands down one of the tastiest sandwiches I have ever had the pleasure of eating.....
I bought a round of olive oil bread which I filled with Dijon mayonnaise, Gruyere cheese, hand carved ham from the local deli and last but not leat slices of saucisson and to have long along side it a bowl of little cornichon pickles and it was so good I ate it before I could take a photo, sorry guys.