I love a full English breakfast on a lazy Sunday morning as much as the next man, woman or child so please don't get me wrong, I would never turn down sausage, egg, bacon, beans, mushrooms, tomato, toast and black pudding...I just wouldn't say no...or would I???
Well yes I would so I just lied as I would much rather have an authentic Ozzy breakfast any day because it is just so God damn good. When I lived there(which was mentioned in my first post!) I worked in a cafe called 'Leroy Espresso' (that's how it's spelt!) that just served breakfast and that is where I learnt the ways of the Ozzy brekky and the stupendous varieties and choices that you could peruse from the menu, for example ladies and gentleman I give you the brekky bruschetta topped with scrambled eggs, pesto and smoked salmon, or perhaps a healthy version of a fry up which is sausage, mushroom, sauteed spinach, avocado, tomato and sour dough bread and maybe a pot of home-made hollindaise sauce to dip in,(I know that's not healthy,shhhhhh)
One of my favourites was corn and zucchini fritters with mint yogurt on a bed of rocket with chili sauce. You may think that it does not sound that exciting but it would be hard to find the same quality and freshness of ingredients, cooked so perfectly and the huge variety of dishes to choose from is out of this world.
I also had porridge with Cinnamon poached pears, toasted fruit bread, carrot and orange muffins, savoury muffins with feta, spinach, roast tomato and Parmesan cheese on top, pancakes with stewed fruit and creme fraiché or banana's and maple syrup and that is just naming a few. I urge you to go to Australia and eat breakfast at a gorgeous cafe, when the sun is shining with a mug of the best coffee whilst looking at the menu. If you need a guide I would be happy to accompany you so don't be shy to ask me.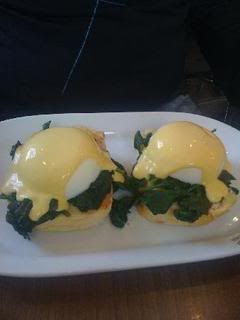 This was what me and Mercer had for Breakfast on Sunday, but he had his with bacon, I'm trying to be healthy, that's a bit of a joke when I'm eating something that is basically covered in Butter and egg yolk...mmmmm healthy.