I had the day off work today and had a hankering for Japanese gyoza dumplings and thought it would be fun to make some ( not many people think making Gyoza dumplings on your day off is fun, especially some of my friends but to me it's a day well spent!) so I took a bus into Brighton and went to "Yum Yums" which is an amazing oriental supermarket selling everything you could possibly want to make a delicious authentic Asian meal.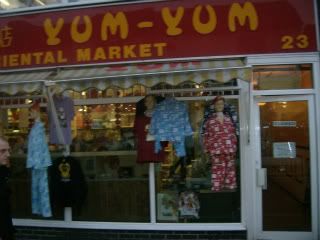 I had looked on the Internet for the basic idea of how to make the dumplings and what should be in them, most were just pork but some had pork and prawn and thas's the way I decided to go as I think the prawns add sweetness. Obviously adjust the measurements to how many dumplings you are making.
quarter of a Chinese cabbage
2 gloves garlic, minced and crushed into a paste
1 teaspoon grated ginger
1 Chinese spring onion
6 ounces ground pork
1/3 pound prawns, shelled, deveined, and chopped
1/4 teaspoon sugar
1/2 teaspoon white pepper
1 1/2 tablespoon soy sauce
1 teaspoon sesame oil
1 pack Gyoza wrappers
Put the chopped cabbage in a bowl and add the garlic, ginger, spring onion, pork, and prawns. Stir the ingredients so they come together. Add salt, sugar, pepper, soy sauce, and sesame oil and combine well.
Scoop up about 1 tablespoon of filling and put it in the center of a gyoza wrapper. Fold, pleat, and press to enclose the filling into a pleated crescent shape. Place the finished dumplings on a plate lined with parchment paper (to avoid the bottom sticking to the plate). Repeat the same until the filling is used up.Heat up a frying pan over medium-high heat and add 1 1/2 tablespoons oil. Add the dumpling's one at a time and fry them for 1-2 minutes, until they are golden or light brown at the bottom.
Add 1/4 inch depth of water into the frying pan and cover it immediately with a lid and lower the heat to medium. Let the water bubble away until it's dry, for about 6-8 minutes. After the water is gone, remove the lid and fry for another 1-2 minutes until the bottoms are brown and crisp. Transfer the dumplings to a serving plate and serve immediately with a dipping sauce if you remembered to make or buy one which I did not but they tasted amazing if I do say so myself.