I love love love chicken satay and hadn't eaten it for ages so decided to make it for tea to eat on a balmy summers evening with Mercer. I also made coconut rice with peas and spring onions but didn't take a photo of that as it got eaten before I got a chance and so did the skewers, so here is a photo of my lovely peanut sauce!!
I will be the first to admit that I never really measure anything and so ingredients just get thrown in but 'carefully' thrown in as I have a pretty good feeling for what the right amount should be and things generally turn out very well! I have made this recipe to feed two but please do adjust the measurements to suit you!
Ingredients
Pack of chicken thighs (around 3 per person if a main meal or 1-2 if a starter, they're are very moreish!)
Soy sauce
fish sauce
1 tin of coconut milk
peanut butter
1 fresh chili (red or green)
fresh coriander
sesame oil
half a fresh lime
pack of skewers
Method
Firstly get your chicken thighs, peel the skin off and de-bone them, then lay them flat and cut into strips not forgetting to remove veins, extra fat and little bit's of bone.
Try to be quite generous with the size of the strips as they do shrink a little in the pan.
Put your strips into a bowl and pour in just enough coconut milk to cover them all, a few splashes of soy sauce, a teaspoon of fish sauce and then cover and refrigerate for around two hours or as long as possible.
To make your peanut sauce add 90ml of coconut milk into a pan that's on a gentle heat, then two tablespoons of peanut butter and stir, when the sauce is smooth add a teaspoon of fish sauce, a splash of soy sauce, the juice of half a lime and come finely chopped chili. The sauce will thicken quite quickly but if it needs more peanut butter than add more as you please, but be very careful not to over heat the sauce or it will go very wrong, it should only take a few minutes to make. When the sauce is done add some chopped coriander to finish it off.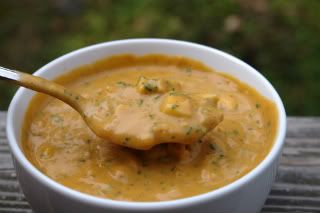 Put your chicken on the skewers(don't forget to soak them if there wooden) and cook them on a griddle if you have one or just pop them under the grill if not. Serve with the peanut sauce and there you have it! To make the coconut rice I just cooked basmati rice in coconut milk and water the added peas and spring onions at the end. Enjoy!