I have not been here for ages I know and I am very sorry but I had an unexpected trip to Cornwall and have just got back and to be honest I would not have had it any other way so there, anyway moving on!
Mercer and I stayed in St Agnes and it was so stunning with lovely local shops including two butchers, two fruit and veg shops, a deli/fishmongers and a bakery all selling fresh delicious local produce.

One night we had steaks cooked on the BBQ from one of the local butchers with potato salad and we had bought these beautiful bags of salad with edible flowers in them to have with it, another night we had fresh crab and scallops with home-made garlic mayo and chips and oh God it was heaven!!! As the weather was so gorgeous we did Lot's of clifftop walking and on one of them we stopped in a bay where there was a small cafe selling an ice cream called a hedgehog which was local vanilla ice cream dipped in clotted cream and the rolled in toasted caramelised nuts and although it may be one of the most fattening things to ever pass my lips it was very much worth it!
We ate out a few times and one of my favourite places was Blue Bar in Porthowan and the views were stunning over the beach and the food was great to, I had a big bowl of mussels and chips and mercer had a chili beef pizza and everything was fresh and delicious. This is a photo of the beach that the Blue Bar looked over and Blue Bar.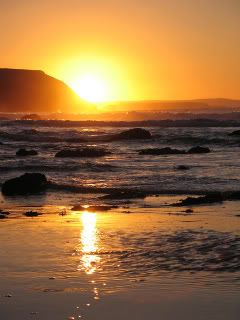 It really was so beautiful there and I wished that I didn't have to come home!