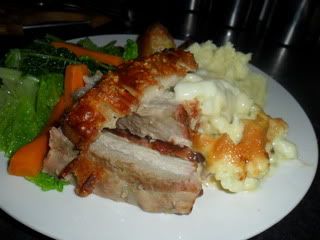 I love pork belly and would eat it every day if I thought I could get away with it, it's creamy fat that renders into the meat so it's meltingly tender and of course the best bit of all....the crackling.
It's a very sad affair when your crackling doesn't crackle and there are many tried and tested methods for getting it right and I have tried them all. The trick is to the skin as dry as you possibly can, I cover my slab of belly in rock salt and leave it for around an hour then wipe the salt off with kitchen towel a nd try to soak up as much of the moisture as possible for using a hair dryer to dry it out even more!!!
To cook my pork belly I cover the sides in tin foil to protect it when the oven is turned up to the fullest to achieve the crackle!!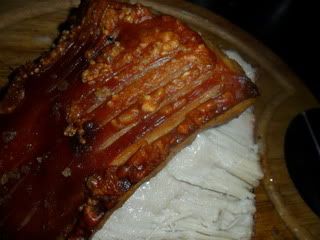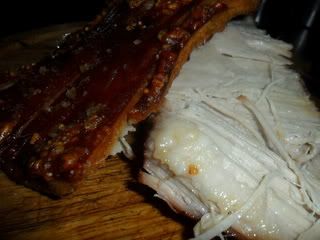 Here she is in all her glory with cauliflower cheese, roast potatoes, mashed potatoes, Roast parsnips and lot's of lovely veg. There was of course cider gravy and apple sauce as well.