I was trawling the isle of my local Asian supermarket getting ingredients for my Thai curry including nasi gorang paste, pork and prawn dumplings and veg.
I got home and started to prepare my lovely curry.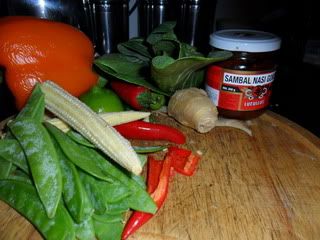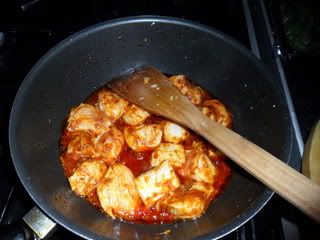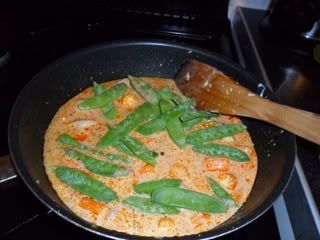 Whilst making the curry my lovely boyfriend came home from work with a treat for me, a pack of scallops which he knows I love but he absolutely hates. They weren't on the shell from a fishmonger they were in a packet from Sainsburys,to be fair my boyfriend knows nothing of food and would not know any better and that I would prefer my scallops big fat and juicy and preferably not in a packet like these came. But you must never look a gift horse in the mouth!
I had recently seen Heston Blumethal make his scampi fries by coating scampi in ground down scampi fries dust and thought I would do a dodgy version of that because I have a secret love for Scampi Fries so why not.
As I have said in a previous post I have lost my pestle and morter so had to use the back of a spoon to crush the fishy snacks and the result was not as fine as I wanted but I went ahead none the less.
I fried the little scampi coated scallops for a minute or so on each side.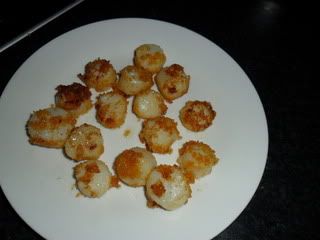 And do you know what they were bloody delicious and I ate them all! They don't exactly go with Thai curry but I will make them again with a lemon mayonnaise dip as a special treat for myself and a lucky friend.