All I seem to do at the moment is work and feel like I am neglecting my blog, so much so that I didn't even realise my blog was a year old on the 14th of April.
Well happy first Birthday my lovely little blog and I promise not to neglect you like that ever again.....just one more 16 hour shift to go until I'm free for a whole two days and I promise to do a bloody post.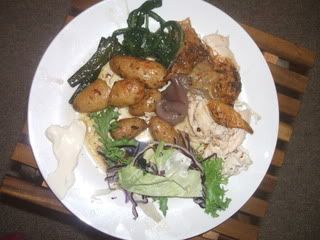 Here is a photo of Piri Piri roast chicken that I stuffed with wild Garlic and served with roast Anya Potatoes (special knobbly little potatoes), roast courgette, salad and mayo..This is the best I can do at the moment so there you go!