This may be one of the most calorific things you could possibly eat, but when it's lashing down freezing cold rain with 100mph gusts of wind and you want to cry a tiny bit then I recommend you eat this cheesey, gooey crusty topped pie and laugh in the weathers face...'F***K you weather, I'm eating loads of cheese in a pie and I just don't care!!!!'
I made the usual mashed potato with milk, butter and lots of pepper then I added a dangerous amount of home-made 4 cheese sauce that I had in my freezer, then I grated some very Strong Cheddar and put that in and to finish it off I put even more Cheddar on the top and some Parmesan to give it a crusty crust.
This would be great with so many things but I had mine with pork fillet, brussle sprouts and apple sauce..Fanbloodytsatic I tells ya!!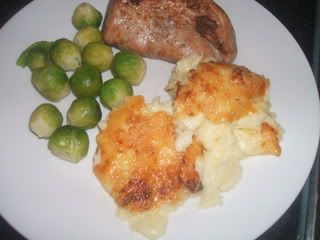 mmmmmmm crusty top