I hate Internet service providers who give hideously bad service and steal money they are not owed from your bank account and leave me without Internet for a month, they still are not providing me with Internet so I have bought a dongle with Internet on it that I can use as I can no longer function without it. I have seriously got horrible withdrawal sypmtons and pangs of guilt knowing how long it had been since my last post, it was bloody horrible and I hate not being able to read other people's food blogs, it's one of my favourite things to do! I have so many things to post but I am going to start with this delicious rice dish that is a kind of paella/savoury rice but what I do know is that it's delicious and really easy to make.
Easy Paella/Savoury Rice
Paella or risotto rice ( I used Japenese which is really similair to risotto rice)
Two peppers red and yellow
One onion
Chorizo Sausage
Peas
Prawns
Pinchitos or if not just use tumeric, chilli powder and cumin
Vegetable or chicken stock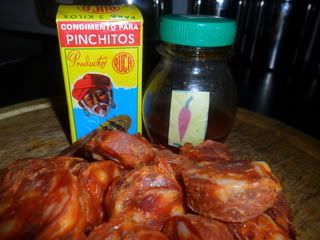 The start of my delicious savoury rice/risotto/paella... Some chorizo sausage, Piri Piri oil and 'Pinchitos' which is a Spanish herb mix generally consisting of garlic, cumin, thyme,paprika, oregano, turmeric and pepper.
Fry your chorizo, onion and peppers
Add your spices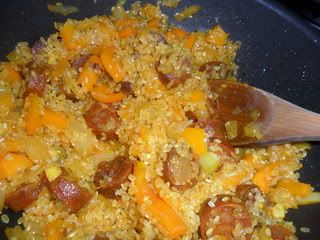 Add the rice and stir, let it cook for several minutes before slowly adding stock a little at a time and stirring like you would a risotto until the rice is cooked through...this requires patience but is worth it.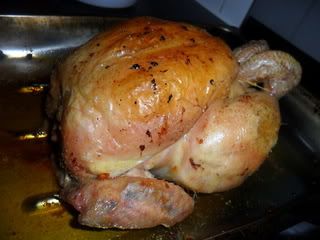 I even roasted a chicken in piri piri oil to go in my rice, it's definitely worth it as the chicken is so delicious and moist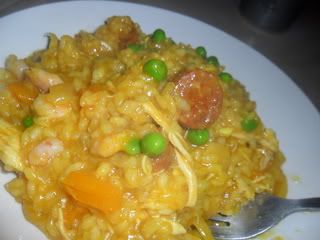 I added some prawns and peas at the last minute so they kept there sweetness.
I adore this type of easy, simple cooking that produces such delicious results.
I have many more post's to do so you can expect a few more over the next few days and I would also like to say 'hello' to my new followers, it's always so nice to get new readers!x