Look at all the lovely things my Mum bought me back from Portugal, I'm a very happy girl indeed. I got some truffle cream made with a type of truffle called 'Black Summer' and I have to admit that I have never tried truffle in any form and I love all fungi so am looking forward to trying that. I got a gorgeous bottle of pink rose syrup that I can use for cakes, piri piri which is in almost everything in Portugal, extra virgin olive oil, some pinchitos which I think is some kind of spice mix used for meat skewers in Spanish tapas. I also got a hazelnut sausage/chorizo that I have no idea what to do with but strangest of all was the tin of baby eels or 'Elvers' in some kind of spicy garlic sauce. Now I know there is some controversy about eating these little 'Elvers' and I have never tried them before and am intrigued to know more about them, my Mum said it was a bit naughty to have them and she's hippy woman of the year but she thinks I should try them once, what do you think??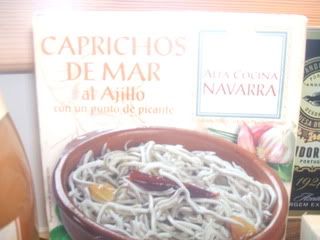 I'm really not to sure about eating these little guys, the photo on the front isn't the most appetizing, they look like malnurished slugs!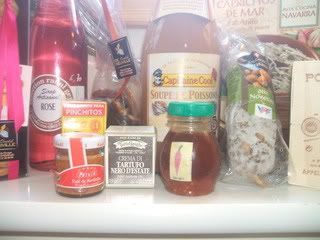 Sorry the pictures so blurry, I had to use a very bad camera phone because I'm waiting for a new memory card for my actual camera!